Carol from No Sheeples Here is once again running her March Madness Sweater Puppy Contest.
The Mind Numbed Robot won round one.
The rules say to enter pics of cheerleaders from your favorite college competing in the 2011 NCAA Division 1 Men's Basketball Tournament.
My brackets, they be busted. I have no "favorite" team. But there is a local team competing in the Women's Division 1 tournament.
I present, Rutgers cheerleaders.
That there is from 1976, the year I entered college at RPI. If the Rutgers women have their own cheerleaders this March they need to do a better job of publicizing that fact because I couldn't find any pics via Google.
So, what to do? I'm an RPI man and we don't know from basketball. Hockey is our sport and we're damn good at it.
RPI cheerleaders? Why yes, it's an officially sponsored club!
Incidentally, there are more girls in that picture than were in my entire graduating class.
Did Carol say "sweater puppies?" I believe she did!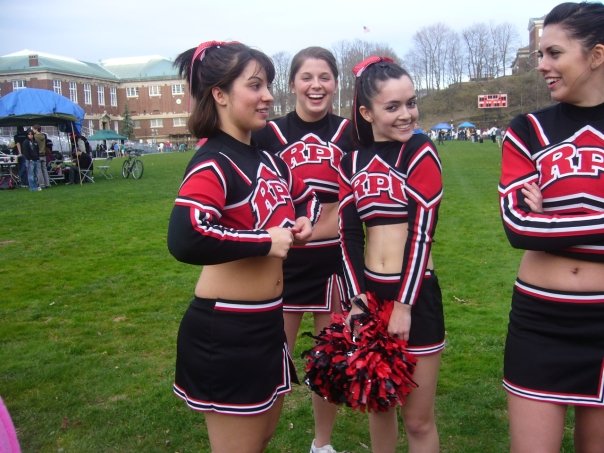 Let's Go Red!
And there you have it. The prettiest lady engineers you'll see all week. They may not technically be cheering for March Madness, but face it, neither are any of us anymore. Not after the shellacking our brackets took.
Fortunately, Thursday is Opening Day…
UPDATE 04 Apr 2011 09:51:
The fix was in! The lady engineers lost!
Some "friend" that Belvedere fellow turned out to be, he completely ignored my obviously superior submission. So Bob, see that car out in front of your house? They'll be taking you for a little ride into the Pine Barrens. They just want to talk to you for a while. Trust me.
Posted at 15:45 by Chris Wysocki [/rule5] Comments | Perm Link |

Technorati Tags: March-Madness cheerleaders RPI No-Sheeples-Here |