Bob Belvedere has been delayed in his quest for hump-day Rule 5 by a request from his grand-niece. She wants him to make an 80's mix tape for her birthday party on Saturday. And she said, "No punk allowed!"
So no Ramones, eh Bob? Although I'm sure you'll wanna be sedated after the party's over! In their place I suggested some of the quintessential 80's girl bands. And in the interest of helping a fellow blogger carry the load, how about we let Rule 5 take its course.
My first suggestion? The B-52's, who I saw at Radio City Music Hall back in the day. Watch out for the Rock Lobster. And lead singer Kate Pierson has still got it goin' on. Yes Bob, I know how you're partial to redheads. You're welcome.
Just don't let your niece head on out to the Love Shack, OK?
Next up on the hit parade, The Go-Go's! They've got the beat.
Like the Obamas, Vacation's all I've ever wanted. Vacation, gotta get away. From the Obamas.
Here's some Belinda Carlisle. Yes Bob, she's a redhead now too. And she's definitely still got it Go-Go-ing on!
But whatever you do Bob, don't walk like an Egyptian. Even for The Bangles. Because you never know when it's just another manic Monday.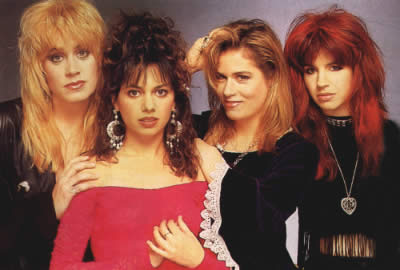 One more thing Bob. Love (even the totally hetero manly kind) is a battlefield. So like Pat Benatar says, hit me with your best shot!
So tell me Bob, is that niece of yours a real heartbreaker?

Posted at 22:43 by Chris Wysocki [/rule5] Comments | Perm Link |

Technorati Tags: B-52s Go-Gos Bangles Pat-Benatar |